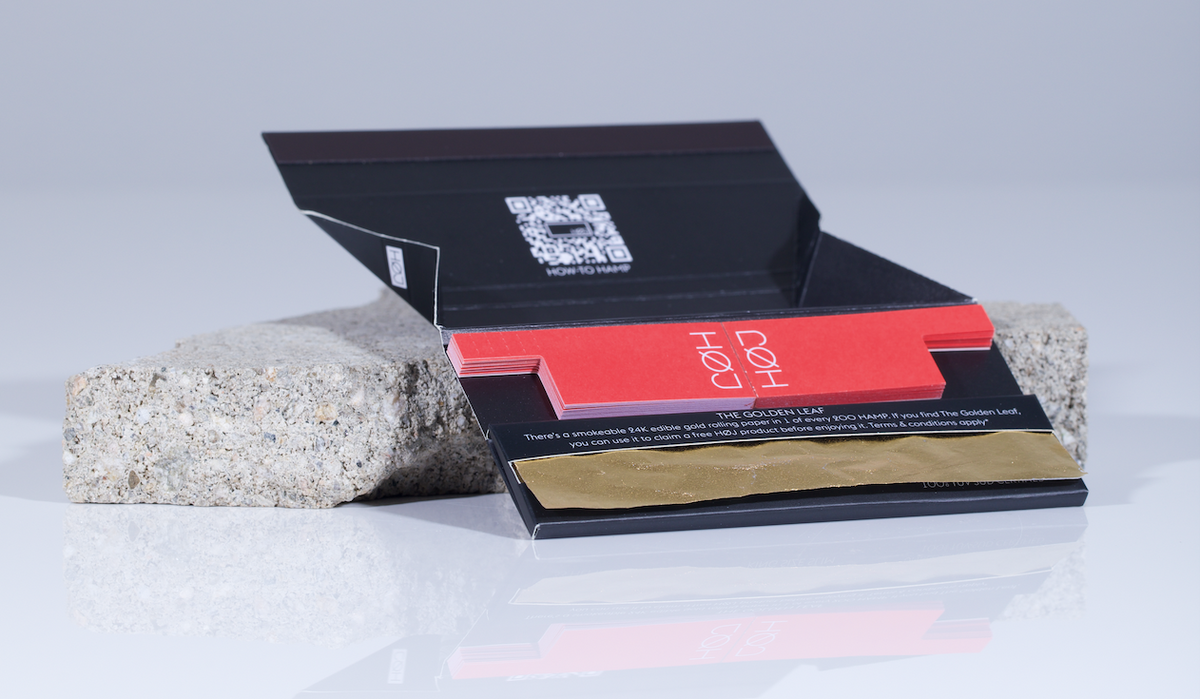 HAMP vs. RAW Rolling Papers: Which Are The Best Rolling Papers?
Rolling a joint is a classic way to get high, and an important part of getting the perfect one is finding the best rolling papers for you. The world of rolling papers has a big offer for stoners who want something else than the regular experience, and we want to compare HAMP vs.  RAW rolling papers so you have a better perspective of which rolling paper kit suits your lifestyle and expectations of a wonderful trip.
Things to consider when looking for the best rolling papers:
Maybe you have thought that the rolling paper you are using doesn't have an impact on you and your joints, but the truth is that your smoking experience can be enhanced or worsened by it. Keep reading as we tell you all you need to know to choose the best rolling papers for you. 
What are rolling papers made of?
The material of rolling papers is the most relevant feature you need to check before purchasing a rolling kit. RAW rolling papers are made with natural fibers and don't have any artificial chemicals. This is a very important aspect because if they had them, they could affect your lungs and increase the risks of smoking. It also is unbleached, which is another factor that contributes to the purity of your cannabis.
On the other hand, HAMP rolling papers by HØJ are made of 100% TUV SUD-approved unbleached hemp and arabica gum and are colored with soy ink, so you can be sure you will have a totally green and natural product. 
Smoking with hemp paper would totally create a more eco-friendly way to smoke weed, for sure! 
Perks of each rolling paper brand
HAMP vs. RAW Rolling Papers
One of the main perks of using HAMP is its shape. Like many other papers, even RAW's are just rectangular sheets, HAMP's filter is cut in a way that allows it to burn slower. This also helps to avoid inhaling the herbs and keep the airflow consistent.
There is a surprise in these papers as well: in every 200 packages, there is a smokable 24k gold paper that you can exchange for any HØJ product for free! So who knows?… Maybe you'll be the next lucky one! … Check HAMP and HAMP mini right here and get a chance to win.
RAW rolling papers, on the other hand, is a very popular brand and you can find it everywhere and is known for being eco-friendly, but HØJ's HAMP papers have these same features, so you might be very satisfied if you give it a try.
Another outstanding point of HAMP is that is a complete rolling kit! Besides the hemp rolling papers it includes airflow filters and a rolling tray, which will make rolling a perfect joint the easiest task.
When purchasing RAW, it is sad enough, but for legal reasons, they aren't available through the website. The only way to get them is through external distributors or "dealers", as they call them. On the other hand, buying HAMP rolling papers online is super easy as you can buy it from the website and deliver it to your door, no matter in which part of the world you are. Check HØJ's online store.
HAMP rolling papers (HØJ Media)
RAW rolling papers (Rawthentic)​​
Rolling kits packaging
When it comes to this kind of product, high-quality packaging can make the difference between having a good or a bad experience and also preserving your sheets in a proper shape that allows you to use them as smoothly as possible. For this reason, both RAW and HAMP have a very nice sturdy, and slim package that serves the purpose and keeps them intact. You'll also see some magnets; they are there so your box closes correctly.
An extra feature you'll love about HAMP is that every box can be folded to transform into a rolling tray that will give you the opportunity to roll joints easily, at any place and time.
 
Choose the best rolling papers for you!
We hope this comparison between two top-level rolling paper brands (and of course our favorites) was useful to you in your journey to get the best cannabis accessories possible.
Are you a retailer or distributor of cannabis accessories? Don't forget to check HØJ's wholesale platform, you'll get amazing deals on rolling papers wholesale and even FREE samples for your clients!
If you want to learn more about the world of cannabis, we recommend you visit HØJ's blog for other articles!
Disclaimer: This article is completely informational and written from a user's point of view. Brand content and product specifications were taken from each brand's public websites.
RAW | Slow burning papers: https://rawthentic.com/prawducts/papers/raw-classic/