KLIP [kli-p]

Protect the herb, preserve the high
---
KLIP is a grinder only by name, having been fundamentally re-imagined for the first time in over 110 years. This an evolution, this is a revolution.
Starting from $130.00
Customer Reviews
Write a Review
Ask a Question
Filter Reviews:
slicer
grinder
pieces
grinders
water
Packaging
KLIP
blades
feeling
06/26/2020
Dr.G
Japan
Revolutionary
A thick wire hammered into a tree (The word grinder these days Besides, it is also called a crusher It was done) At the service when I bought the bong The attached all plastic thing is A sharp wall (think of herbs if you think about it now) It was a cruel tool to make) Space, titanium grinder. It seems to be a completely different tool from them. Taste and potency are remarkably clear And Get a whole new set of headphones It is similar to the feeling when you put it in. The impression of your favorite song changes completely. It's an interesting experience. I have a favorite I have an urge to listen to all the songs again! I had the same experience. All the herbs you have will be reborn. Really this is a revolution. The staff and designers involved, the concept, Thanks to New Earth.
06/26/2020
Mark E.
United States
(Next to) the last chopper I'll ever need.
I have used small pairs of scissors for over 35 years and have never considered anything else. Even after having tried the standard grinders that have been on the market over the decades, I always found myself going back to my trusty sharp blades. So, after reading several reviews and watching a video or two of the KLIP, I found myself somewhat excited as I shelled out some funds to give the mini a try. I mean, "blades"?! I just had a feeling... I have had my KLIP mini for a little over a week now and what can I say that hasn't already been said about these amazing little gadgets, from their excellent craftsmanship, right down to the company's commitment to using recyclable/ renewable resources? Well, I'm now patiently waiting for HØJ to begin taking pre-orders for the full-sized KLIP, if that should tell you anything! ;)
06/21/2020
Terrell p.
United States
Simplicity made awesome
So let me start by saying the owner and staff are awesome ppl had some hiccups but they made it right I got the Klip pro and woow the package was neat case I can store the unused parts and it's very strong so no goofy box to get crushed The cutter is simply the best I've ever seen hands down and I have options on how fine I want my herb cut and sifted I have 6 spinal injuries and my hands go numb and fully loaded I can turn this cutter with 2 fingers now it does takes some getting used to with the magnets as they are strong and the ones in the middle will trip you up but once you get used to it it's like comparing a lambo to a Toyota lol Oh and just in case you guys didn't know the bottom is magnetic also so I stick it to my tray and I can use it on those harder strains to cut when my hands and arms are being very difficult Thank you guys so much
05/14/2020
Melissa S.
United States
Amazing
So, I got ordered the klip when I really wanted the kol. I decided to go with klip as my grinder is about 6/7 years old. I only used the klip once as I only partake once every two weeks for health reasons. This was, by far, the most pleasant experience ever. My flower was not mashed or ground into tiny pieces. The blades seem to have released a level of freedom I had never experienced. We used a bowl (still waiting for kol). This is what I noticed: - Used less than half the amount of flower than usual - The flower didn't jam into the holes of my bowl - No burning or coughing. There was minimal pain/discomfort on inhale. No lung discomfort later. - The high was smooth. Not too quick. Come down was also smooth. I know this sounds mike I had some good flower but I've been using the same product for almost 6 months. All in, definitely worth the price!
05/12/2020
Richard H.
United States
Like nothing before it
To start, I have had my Klip for a few months, and this is by far the best improvement to my equipment, EVER! I had been content with a small budwiser looking grinder that i have had for over 7 Years. this was a great piece, but it was just a grinder. my first round of Herb though the Klip was like taking a T-Break for 6 months. It was a quality of Herb that I had not enjoyed in a very long time. you can instantly feel the difference when kliping your herb, you feel the frictionless spinn of the blades as they process the herb. I have used the smallest screens since the beginning as that is my personal preference. The lower collection is collecting quite nicely, while leaving plenty on the herb for your immediate enjoyment. Cleaning is efortless. i use a toothbrush with a little water, and it seems to be spotless after just a few min. let it dry and put right back together. the funnel it comes with has come in handy filling current bowls and such, can't wait to pair with the KOL and see how those go together. Thank you HOJ for starting the Revolution! can't wait for the future!
05/05/2020
Louis
United Kingdom
05/04/2020
Sofia P.
United States
Best Grinder Ever!!
I found HØJ on Instagram and loved the images of the grinder. At first I was concerned about the price (it's $150) but now I can only say: IT'S WORTH IT. I don't know the science behind it, but it definitely leaves me a fluffy outcome, which I haven't achieved with other grinders, and it looks so good. Thank you for giving me the grinder of my life >3
05/02/2020
Archie
United Kingdom
Genuinly makes me higher!
I love it. The grinder actually makes the same cannabis better. It feels super premium to use and doesn't clog AT ALL. Plus, I keep it on my bookshelf and I've only had it 10 days but soooo many of my friends have commented on it's unique futuristic look. Would recommend.
05/01/2020
Rollingit420
Canada
Stoner engineering
Since I like to roll different kind of things from blunts to joints, grind matters. I was still looking for the best grinder on the market when I found HOJ. This is the one. The packaging is clean, efficient and sober, as is the grinder (which could probably better be called slicer or cutter). The KLIP is a real piece of art and engineering. The whole thing could easily fit into any interior decor. I've been talking a lot with Simon from HOJ recently and I can tell you for a fact that this product properly reflects his and his team's spirit. It's also the best customer service I've dealt with! They're very responsive and helpful.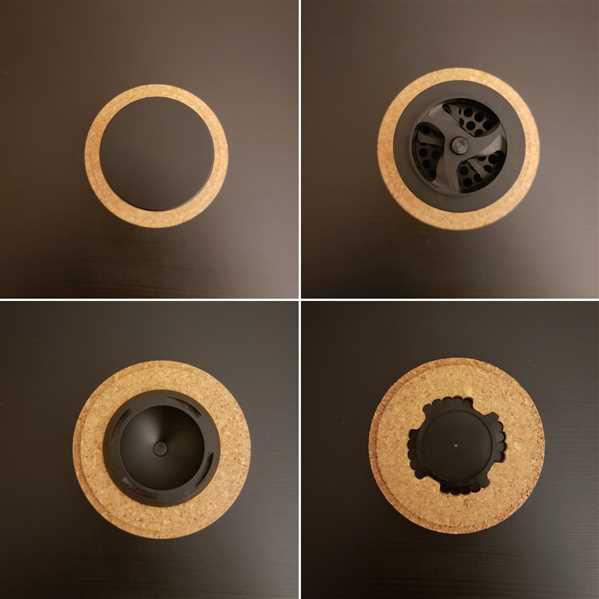 04/30/2020
Susan B.
United States
The Best Grinder!
I have had my KLIP for several weeks now and without a doubt it is the best grinder I have ever used. There was a short learning curve for me simply because it is so different. I have 5 other grinders that are now gathering dust because why use and inferior products when you have the best at hand. The first time I used it I was blown away by the texture of my ground herb, not dry and powdery looking, but fresh and "fluffy". The slicing mechanism is amazing. Aside from how good the KLIP is at it's job, it's beautiful to look at. I love it! Do yourself a favor and get one, you won't be sorry.