KLIP [kli-p]

Protect the herb, preserve the high
Voted best grinder 2020 by Herb and Strain Insider
Shipping in 2-3 days
EU, UK + US Standard Shipping 8-10 business days
EU, UK + US Express Shipping 2-3 business days
International Standard Shipping 18-20 business days
International Express Shipping 5-7 business days
Duties and VAT may apply on EU, UK and International orders.
---
KLIP is a grinder only by name, having been fundamentally re-imagined for the first time in over 110 years. This an evolution, this is a revolution.
$150.00
Customer Reviews
Write a Review
Ask a Question
Filter Reviews:
grinder
KLIP
herb
price
design
magnets
quality
blades
screens
Packaging
01/14/2021
Mario V.

United States
01/12/2021
Ash

United States
I recommend this product
From the product to the service 5 stat
If you partake in smoking cannabis and don't own this, you're doing it wrong. This is the best thing for your flower. Light, fluffy, sliced up goodness. Every accessory included and extremely easy to use. There customer service is amazing. Extremely nice, super quick response, and on top fixing any issue. I only know because of the holiday season pushing things back.
01/09/2021
Anonymous

Germany
I recommend this product
Next level of preparing your herbs
I have no idea how you can make it better. This product makes a perfect job. Cutting is the next level of grinding. So easy to use because of the magnets.
01/09/2021
Alexander H.

Austria
I recommend this product
Good gri... I mean, slicer!
Best 'grinder' I've had so far. The magnets are pretty strong, except for the top lid which could be a bit stronger. It's kind of a trap because you can lift it by only holding the top part if you're careful, but a tiny bit of force more and it drops. Really wish there was a locking mechanism. Also, for some weird reason, the aluminium of the lid scrapes against the static steel blade even though there's plastic (where the only contact point should be?)... That being said, the rotation is still smoother than anything else and it slices herb easily. Only downside is that it doesn't seem like you can sharpen the blades easily if they get dull... The surface is kinda non-sticky. The important parts are stainless steel, rest is type III anodised aluminium. The best part is that everything's magnetic, you can (dis)assemble it in a matter of seconds and you can customise it with different screens. The design is simply great! I mean, 150 bucks ain't cheap, but it is a quality product. 9.5 out of 10.
01/05/2021
jeff j.

United States
Grinds effortlessly
Beautiful, ergonomic, exciting to use. Grinds effortlessly. Not ideal for pollen collecting. The screens didn't work as well as the fine screen on common grinder and the collection part for pollen was curved (really pretty but not functional if you want to easily collect all of the pollen)and the material of the grinder doesn't work with pollen (scraping it out is a mess and it acquires condensation too quickly when removed from freezer which is necessary to get a good amount of pollen thru screen).
01/05/2021
Anonymous

Canada
Design and quality first!
Both the Pipe and the Grinder (oops .. slicer !) are very well designed. Quality is impressive ! Worth it! Cheers!
01/03/2021
Tiago M.

Portugal
01/03/2021
RT
Richard T.

Netherlands
Best grinder i have
Nice design works great.
01/02/2021
Paul N.

United States
nice cutter
nice grinder cut up herbs nicely
12/31/2020
Anonymous

United States
Amazing
I bought this For someone and was told this was the best gift received:) also got the kol and can't wait for more products!!
12/26/2020
Nicholas W.

United States
I understand the hype now
Ive had the same small grinder for years and really wanted something quality i can have for many years to come. I absolutely love how it feels looks and works and I wasn't even paid to say any of this. Worth the 150 if you have the funds to spare.
12/26/2020
Anonymous

Germany
Great products, awesome customer service
I ordered both sizes of the Klip. The smaller one as a gift and the big one to keep for myself. As the Klip just got out of stock the second I placed my order, they offered to send the Klip mini via express shipping without charging me extra and even wrapped it in some beautiful gift paper. As soon as the Klip was back in stock, i got it via express shipping as well, again without having to pay extra. Great job Hoj-Team! The grinder works perfectly, really smooth and you can feel the build quality just by holding it. I love all the different options you have with this product and the simplicity you get in cleaning it. When it comes to the two sizes, both are big enough to fit the necessary amount of herb. For that reason I would recommend choosing based of the size of your hands. Since I got pretty big claws, I don't have any problem with using the Klip. My sister however, she got the Klip mini for her birthday, is very happy about the smaller size. In conclusion, I am one satisfied customer and my bank account will probably get mad when I order the Kol at some point ;) Thanks guys for changing my overall smoking experience in such a positive way.
12/24/2020
Ethan

United States
Best grinder ever
This will genuinely be the last grinder I will ever have to buy. It's very easy to clean and it clips the bud and makes it super fluffy.
12/23/2020
Anonymous

New Zealand
New best friend
Absolutely bloody love it
12/21/2020
Gordon G.

United States
Nothing else like it
Fantastic piece of engineering and design combined in one. Love the fact that you can change the disc to get S, M, L grinds. The funnel comes in super handy too. The 100% magnetic functionality of the grinder is a game changer. If you're looking for the best grinder, you've found it.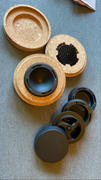 12/17/2020
Danielle

United States
Best grinder
This product is fantastic. Easy to use and grinds beautifully. Worth the price. I'd buy again.