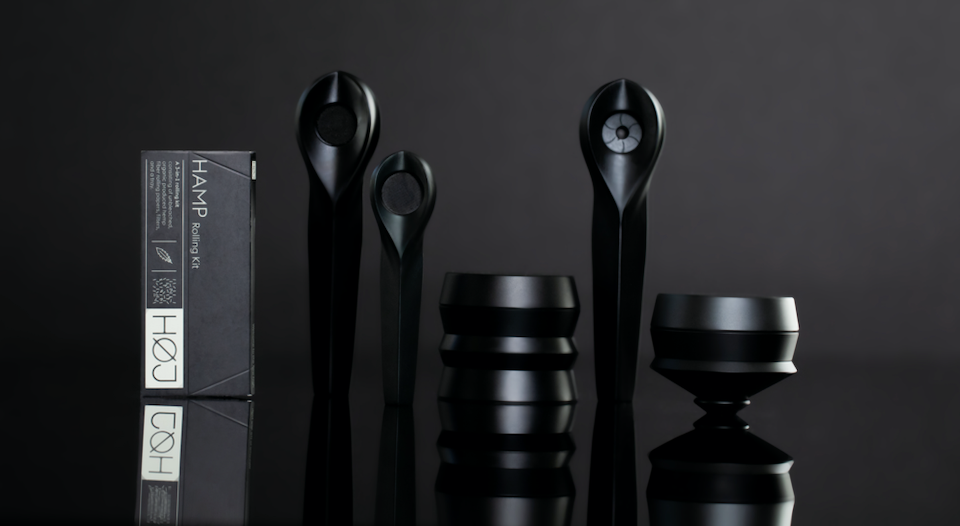 10 Best Weed Gifts for Stoners - HØJ Reviews
So your stoner friend's or relative's birthday is coming up, and you're struggling to find the perfect gift for them. We did some research on must-have accessories and narrowed it down to ten potential items you could give as a gift; we got you covered! 
It is no surprise that the cannabis industry is growing, and in addition, it is becoming more and more innovative in every way. There are certain accessories that a smoker can never go without, so we made a list of the basics that are always useful to have around. 
Best weed gifts for stoners based on true client reviews:
Take a look at this video, here you'll see Simon (Founder of HØJ) read some reviews about the client experiences when trying HØJ products and the company's service overall. 
In response to this first review, Simon mentions: "One of the key reasons for creating the products is for creating experiences we carry with us, not just a tool for you to use, but actually for something to share and enrich your life and extend your ritual with our lovely plant" and that's the magic behind the HØJ products being rated as the best gift for your stoner friend or family members.
Go ahead to learn more about them!
1. Grinder
Part of smoking is breaking up the marijuana flower buds. A grinder is an essential must-have device used to slice weed up into tiny pieces, which will help with hitting smooth bowls, packaging rolling papers, blunt wraps, or joints. Grinding weed also allows the airflow you need to smoke and inhale properly, no matter the device you're using at the moment. 
If you want to purchase a good and lasting grinder, HØJ's KLIP is the best choice. Its design incorporates magnets to make it easier to assemble and manage. Take a look at this product, convince some of your friends to purchase it together and give your stoner friend the best grinder they could ask for.
And if you think he might like better a smaller version hold on tight! HØJ is getting into it pretty soon... so stay tuned!
Anonymous buyer KLIP grinder review (HØJ.LIFE)​​
2. Joint holder
Get transported back to the 1920s with a joint holder! These products help you get a nicer and softer smoke, reduce the smell of your fingers, and prevent tiny burns around your mouth.
We recommend you this hand-made wood holder, where you can actually select the wood type you want and its hole size. 
3. Personal air filter
Have you ever heard of a Smoke Buddy? This personal air filter is one of the most practical items you could give as a gift, whether for keeping a low profile outdoors or keeping friends and family safe from secondhand smoke. This device is super easy to use; just exhaling smoke through the device will help it dissipate. You can choose any size and color you want!
4. Pipe
HØJ's KØL 2.0 is the best design on the weed market. This pipe implements magnetic tech, and it purifies the smoke, so you can wave goodbye to coughing because it won't be an issue anymore. Besides, thanks to the magnets, cleaning it is super easy. You'll just snap it open, wipe it, and put the two pieces back together. 
Take a look at this HØJ client review which talks about the time that he gave a KØL pipe to his father as a Christmas present: 
"My father retired about a year ago. He worked extremely hard his entire life as an oil man, working in the oil fields, then hauling gasoline. Needless to say, he retired in some pain. He took up smoking in his retirement. I bought the KØL 2.0 for him this Christmas and he immediately loved it. Y'all make a fantastic product. My family thanks you. 
Also, he named his KØL Gandalf, Haha! His birthday is in April, we will be back to buy the grinder and maybe the smaller KØL for travel."
KØL is built to last with a lifetime warranty and is respectfully created; check also the smaller version this guy talks about. KØL mini 2.0 can be also a great way to impress your friend with the best birthday gift he can take anywhere. 
Other clients' reviews say: "KØL for me and KØL mini for her" Learn here why. A perfect pair of pipes for a perfect couple! 
Anonymous buyer KØL pipes'​​ review (HØJ.LIFE)
5. Ashtray
Sometimes an artistic, handmade, portable ashtray is everything you need. If you look for ashtrays online, you'll find a ton of options. For a lovely gift, we recommend you to search for one online, it can be on Amazon or Etsy, one made with high-quality resin, dry leaves, and other exciting materials. 
We recommend you to consider that if your friend might like having an ashtray for themselves, maybe is because they are joint fans. Considering that, you can choose to buy him a a rolling kit that already includes a type of astray on it. One good example can be HAMP, this rolling kit not only contains rolling hemp papers and its filter, but it also transforms the box itself into a personal ashtray your friend can take anywhere they want! 
6. Rolling papers
As shocking as it may sound, the consistency of the rolling paper can have a significant influence on the smoking experience. Bad rolling paper could lead to a negative effect on the flavor of the joint, so choose well.
We recommend rolling hemp papers, which are papers made of dried cannabis Sativa pulp. This is one of the healthiest options when talking about rolling papers, just because hemp is all-natural, organic, and ultra-sustainable. Check out HØJ's HAMP rolling papers right here! This 3 in 1 rolling kit includes not only the hemp papers but its own filters and ashtray.
If you want your present to be the best maybe the HAMP box would be better than just one rolling kit. In this box you will have 22 rolling kits of hemp papers and more chances to win free HØJ products if they find the Golden Leaf inside of one kit; there's 1 in every thousand HAMPs.
7. Odor proof stash bag
A stash bag is key to a better cannabis experience, whether you're out on a camping trip or going to a friend's house to smoke and chill. 
Odor-proof stash bags are a great gift, so we recommend Firedog's handmade and eco-friendly bag, which also comes with a locking system! You can check their stash bags on Etsy.
8. Smoke odor eliminator candle
This paraffin and soy mixture candle is great for getting rid of weed smell, whether you're used to smoking in your home or keeping weed inside your room. 
There's a diverse range of candle products; we recommend checking out Smoke Odor Exterminator on Amazon to choose what kind of smell is your friend's favorite: vanilla, lavender, bamboo, anything!
9. Cannabolish spray
Does your friend keep weed in their car or in closed spaces? An odor eliminator spray is a great gift! 
Cannabolish Wintergreen Spray is made up of plant oils and natural ingredients, and it is scientifically designed to neutralize the odor molecules from cannabis smoke.
In this case something that might also work is getting your friend a place to store his or grinder that keeps the smell of cannabis inside and not outside. An innovative brands of smoking accessories, such as HØJ had manage to create packaging for their products that work also as smell retainers, so check them out! 
10. Lighter
Every stoner needs a lighter, especially if their favorite way to consume weed is in a joint or a pipe. 
We know it's super easy to buy one at the convenience store, but we recommend you to dive into Etsy and type "lighters for stoners." You'll find many options, from cute lighters to minimalist pieces and creative ones, and you won't regret it!
There it is! Ten potential gifts you could give to your stoner friend as a present, or maybe even for yourself. We know that these will come in handy and of course, very much appreciated.