KØL mini 
[kow-l]
A cleaner, cooler high
Voted best pipe 2020 by Herb
Shipping in 2-3 days
EU, UK + US Standard Shipping 8-10 business days
EU, UK + US Express Shipping 2-3 business days
International Standard Shipping 18-20 business days
International Express Shipping 5-7 business days
Duties and VAT may apply on EU, UK and International orders.
---
video
---
variante 1
---
variante 2
---
shipping
$80.00
Customer Reviews
Write a Review
Ask a Question
Filter Reviews:
pipe
design
smoke
Packaging
bowl
Cleaning
hits
something
company
draw
01/19/2021
Natalie F.

United States
I recommend this product
The best gift everrr
I bought this as a gift and have not stopped hearing about how awesome this pipe is!!! Simple to use easy to clean fresh pull every time.. literally can't think of any flaws :))
01/17/2021
Bear M.

Canada
I recommend this product
Smoothest smoke.
This pipe is one of the easiest device to use/clean. The smoke is always silky smooth and you can truly taste all the terps. This pipe is made to last for generations of smokers haha
01/17/2021
Juan

Colombia
I recommend this product
I love this shark
I've never been one who spokes in pipes, theres always that after taste or the hazard of cleaning it that just is to much for me, always a vaporizer guy, unleast until now. This pipe is amazing, smoothest hits I've ever taken from a pipe, easiest clean that means it always feels like a brand new hit and is the most hygienic pipe ever. Love the filters, alcohol dip, toothbrush and they are like knew, perfect smell proof case ABSOLUTELY NO COMPLAINS.
01/08/2021
Felipe L.

Chile
I recommend this product
Best pipe or best pipe
I'm so happy with this new pipe, it is a piece of art for its design, texture, functionality, experience. Best pipe that I've ever smoke by. By the way, the service of tracking and delivery is a real Customer Centric Experience. You are the best!
01/07/2021
Anonymous

United States
I recommend this product
A GREAT PIPE !!
I luv this souly because you can clean after every use with no problem and it dont get hot when heating up hands down my last pipe
01/06/2021
Carl S.

South Africa
I recommend this product
KOL
Don't judge after first hit, that 2nd one is spot on. Very happy
01/05/2021
jeff j.

United States
I recommend this product
Beautiful piece of art
Holding it is amazing. It's ergonomics are amazing. It's functionality is minimal. Even the purest hit is pointless without proper pull. If u don't mind small hits this may not be a problem at all. I wish I could drill a hole down the middle and just have a functional pipe this beautiful. I apologize for negative feedback but please know, besides the rather important taking a hit part, this is an amazing object. I am fascinated by it's design and form. Please keep making beautiful tools and I will keep trying them.
01/05/2021
Ashley M.

Canada
01/05/2021
Anonymous

Italy
I recommend this product
Great at cooling smoke but needs constant cleaning.
The pipe works extremely well at cooling smoke and looks great. No harsh smoke here. Easy to clean but it needs cleaning almost after every bowl or it clogs up. I guess it's a trade off for the cooling effect.
01/04/2021
Christopher C.

United States
01/02/2021
Anonymous

United States
I recommend this product
Perfect gift!
I gave this to my husband as a gift. He loves it, far superior to anything else he's used! Super easy to clean and much less harsh than anything else. Very impressed with this item.
01/01/2021
Jeffery B.

United States
I recommend this product
As advertised!!
If you search for this item on YouTube and watch those reviews, they are all 100% correct this is a fantastic pipe!!! I take BIG, looonge hits where the whole bowl is glowing and the is NO HEAT, no choking. Also since pipe the pipe comes apart cleaning is a breeze, all you'll have to do is change the screen from time to time.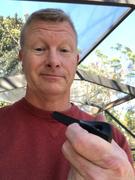 01/01/2021
Angela H.

United States
I recommend this product
Get this pipe!
First, we love the pipe and are enjoying getting to know it better But more importantly, I cannot speak highly enough about this company's costumer service. It's more than that even. I'm saying above and beyond doesn't even describe it. I don't need to get into details but for this reason alone, I will buy from them again and again. Don't hesitate- amazing support and exceptional product.
01/01/2021
Anonymous

United States
I recommend this product
Amazing Pipe
Actually works !! Extremely Full but cool hit hit each and every time. Truly recommend for anyone tired of coughing.
12/29/2020
Anonymous

Canada
I recommend this product
Beautiful
Really beautiful product and I'm glad to support a sustainable business. The way they rethink the pipe and grinder is great however I do believe they will make more improvements. Very pricy but mostly smart products. I find after simply 1-2 hits, gunk from the **** builds up very quickly around the magnets near the mouth piece, making the draw harder and harder until it is closed. It's very easy to open, wipe, and clean but it is happening to me after every use where I can't inhale. Excited to see where you guys take it further. Well done but watch the price
12/28/2020
Anonymous

United States