KØL

[kow-l]
A cleaner, cooler high
Voted best pipe 2020 by Herb
---
video
---
variante 1
---
variante 2
---
shipping
Starting from $80.00
Customer Reviews
Write a Review
Ask a Question
Filter Reviews:
pipe
smoke
hand
Packaging
Cleaning
nothing
design
grinder
bowl
fact
10/17/2020
Anonymous
United States
I recommend this product
Perfect Piece
I love this piece. It feels great in my hand, is the perfect weight and the magnetic connection is slick and quality design. Very smooth hitting and something I would recommend.
10/14/2020
Anonymous
United Kingdom
I recommend this product
Super smooth
Not only good for loose herb. Works well with solids.. hash
10/13/2020
Anonymous
United States
I recommend this product
Pipe
Really like it. Feel like I get more out of what I'm smoking with it. Easy to clean but find myself needing to clean it more frequently then other options.
10/11/2020
Dale D.
United States
I recommend this product
Found My Pipe!!
I had been looking for the right pipe for quite some time. I'm what I would like to think of as a "mature" smoker, but most pipes are marketed towards glass pipe users, young "heads", bong users, or tend to look like mushrooms or old tobacco pipes. None are quite my style. Then, a recent google search resulted in the HØJ KØL. I liked the look, but the price made me pause, for a moment, but like I said, I was looking for the RIGHT pipe for me, and the site offered me a coupon, so, ***? If i didn't like it, I'd send it back. No harm. No foul. I have LOVED this pipe since I opened the box. Its hard to describe, but it fits my hand and style perfectly. Nice, heavy feel, smooth edges, and it just feels nice. The only downside for me is the bowl size and the fact that you do have to stir the product after a few tokes to assure the green areas get the flame, but i can live with that. My only regret is that i didn't also pick up the HØJ KLIP while i could use the coupon, but i see the price has dropped on that (as well as the KØL!), so Ill likely order one if those also. One last thought. Shipping took a LONG time, likely due to the ongoing pandemic, so if you're impatient like me, you may want to use any coupon savings to put toward faster shipping. I would if i had to do it over! Hope you all enjoy it as much as I do.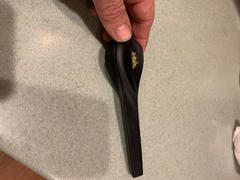 10/09/2020
Anonymous
Reunion
I recommend this product
The next futur smoke
the design is futuristic and well thought out ... It is a discovery, a surprising use and easy cleaning ...