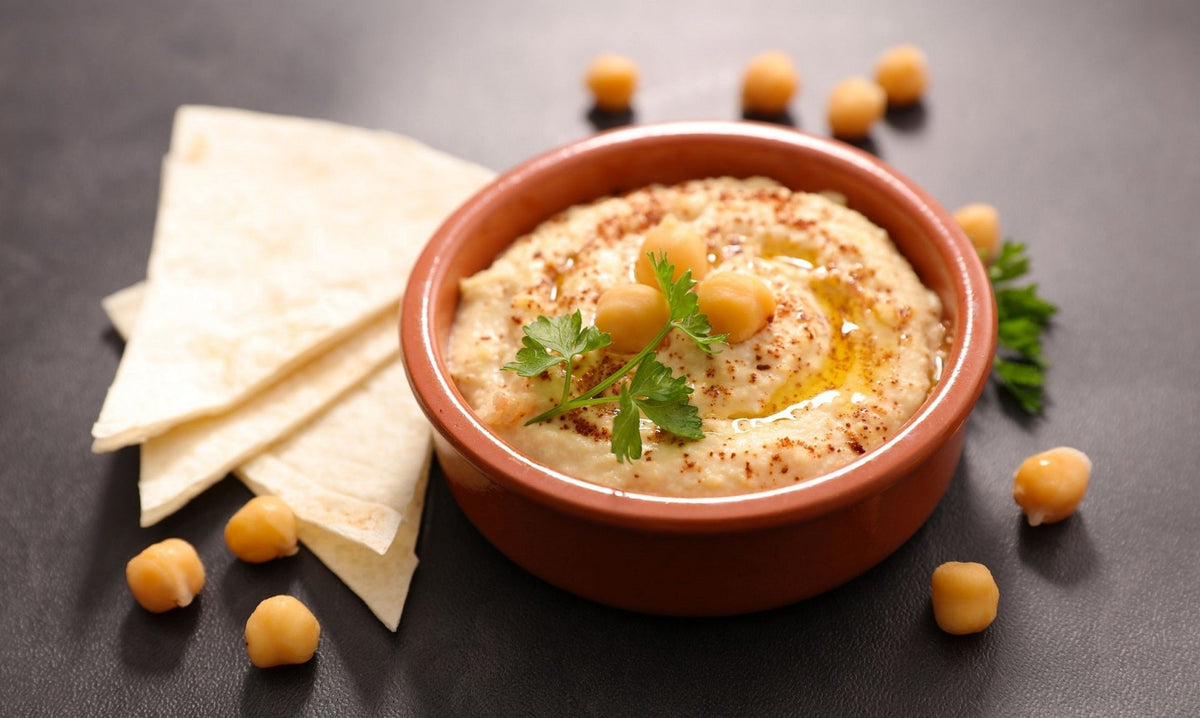 The Middle East amazes us with its beautiful diversity and mysticism. We all love its landscapes, its culture, its delicious food, and of course, its several top-level landrace cannabis.
What better way to pay homage to the Middle East than combining your favorite Kush strain with a super smooth hummus? Stay with us to learn a few simple tricks to make creamy homemade hummus edible.
This straightforward recipe it's made with natural and healthy ingredients. Fresh, healthy, aromatic, and tasteful. Plus, it's vegan! 
Cannabis Hummus Recipe
Hummus it's the quintessential Middle East dip made primarily from chickpeas, a powerhouse of protein and feel-good vitamins. It also contains an ingredient called "tahini," a simple mixture of ground sesame seeds and oil. This Israeli staple provides essential nutritional benefits for your body, while the cannabis-infused canola oil eases your mind and relieves your ailments.
Equipment Needed
Metal Strainer
Food Processor or a high-powered blender
Silicone Spatula
Ingredients
One 15-oz can of organic chickpeas, drained and rinsed
¼ cup organic tahini
¼ cup freshly squeezed lemon juice (no seeds)
Two cloves fresh garlic
1/8th -1/4 cup cannabis-infused canola oil (depending on your desired strength and effect)
½ tsp ground cumin
2 to 4 tbsp water
Salt and pepper to taste
1 tbsp dry ground cannabis flower buds 
Directions
Servings: 1 cup of hummus 
Prep Time: 15 minutes
Cuisine: Middle East
Using a metal strainer, drain the canned chickpeas and simply rinse. If you have enough time and you want ultra-smooth hummus, remove the chickpea skins. 
In a blender or food processor, combine lemon juice and tahini. Turn on the food processor and let it blend for 1 minute. Then, scrape the sides and bottom of the bowl and process again for 30 seconds more.
When it becomes lighter in color and looks thick and creamy, you can go to the next step. Creaming the tahini with the lemon juice before adding any other ingredients is the key to an extra smooth hummus.
Add garlic, oil, cumin, and salt. Turn the processor on for another minute until everything is blended smoothly. 
Scrape the bowl and the chickpeas, separated in two batches. Carefully scrape the bottom and sides of the processor's bowl between sets to make sure everything is well-mixed.
After a minute or two, your hummus should be smooth. Add the tbsp of water as necessary until you reach desired consistency.
Pour the hummus mixture into a dipping bowl.
Add a drizzle of cannaoil and a sprinkle of paprika. 
Another herbastic option is to sprinkle some decarboxylated, ground cannabis flowers on top. Here's a small guide to decarb your cannabis flower:
Preheat your oven to 250 F.
Grind 20 grams of buds. We recommend using our KLIP since it will easily create a fine powder to mix with the rest of the ingredients. What's best is that the KLIP doesn't crush your herb, keeping your strong and tasty trichomes safe.
Spread the ground flower on a baking sheet and take it to the oven for 45 minutes.
Check on your ground cannabis flower from time to time and stir to allow every piece to cook evenly.
When the flower has turned brown, remove it from the oven and allow it to cool. If it crumbles easily between your fingers, it is ready to use.
Now, stir and enjoy with some carrot and celery sticks or with pita and bagel chips. You can also try to use it as a topping for your sandwiches or wraps or just with your salad or favorite pasta dish. The hummus will keep in the fridge for about a week and in the freezer for about a month. Make sure you use an airtight container to store it.
Note: Keep in mind that the quantity of the cannaoil used in this recipe is merely a suggestion. You should modify the cannaoil's amount based on its particular strength and the potency desired. Dosing homemade edibles can be really tricky. The best way to test your cannaoil's strength is to start with one portion of a serving and wait for one to two hours. To increase the dose used, check first how you feel before eating another portion.