KØL Filter
A filter is not just a filter
---
 

Turn up the heat

Made from titanium coated stainless steel so it can withstand heat up to 600°C, KØL's filter further purifies every hit.


INCLUDED IN EVERY KØL PURCHASE 
This item is only for spare parts.

---
Technical Specifications
Dimensions
Diameter: Ø9 mm / 0.35" (fits both KØL and KØL mini)
Information
Heat up to 600c
Material
Titanium coated stainless steel
$20.00
Customer Reviews
Write a Review
Ask a Question
03/26/2021
Wayde

United States
Best pipe I ever owned.
High quality. Cools the smoke great and is easy to clean.
03/26/2021
Wayde h.

United States
Awesome
This pipe saved My lungs, good going!
03/25/2021
Anonymous

United States
Forget glass...
Easy to clean, beautifully designed and just all out awesome.
03/24/2021
Anonymous

United States
Honestly Beautiful
Super smooth hit, easiest piece I have ever cleaned, and honestly the only bowl I can actually smoke out of.
03/24/2021
James D.

United States
KOL DELIVERS!
Not cheap by any means but it works! My "mini" delivers a smooth, cool smoke that I have never experience before. It is easy to clean and I love the cork packaging! I highly recommend, The cost is worth it! I am now set to purchase the standard size as soon at it becomes available again. (out of stock)
03/23/2021
Evan D.

New Zealand
Nearly perfect
In terms of performance this pipe is hands down the best I've ever used. Since I started vaporising dry herb I have found pipes unbearably harsh on my throat and lungs, but the kol is so smooth it's gonna make smoking the alternative in situations when the vaporizer battery is a concern (hiking etc). Only complaint is that the kol arrived with some cosmetic scratches and the screen has scratched the black paint off of the bowl when I have inserted and removed it for cleaning.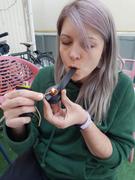 03/23/2021
Anonymous

United States
Love this pipe!
I love the ease of use and the simplicity of cleaning. I can really tell the difference when using this pipe. I really dont cough at all anymore! Thank you for an amazing product.
03/23/2021
Alejandra M.

United States
Awesome Design, Needs Improvement
Designed with ample bowl which is made incredibly easy to fill by the raised edge, this was a bit difficult to light well because you would either need a pipe lighter(I was using a variety of bic and bic-like lighters as well as a clipper lighter) or for your loaded material to be more easily combustible, the consistency of tissue or something airy like that. ******* to keep it lit was a challenge which caused me to feel more light-headed and out of breath than high from my ****. Also, the pipe extracts an incredibly pure and clean taste from whatever you're smoking, without tasting like burnt ash. I love that cleaning the pipe every single time is encouraged by the design since after that first hit, everything gets clogged up and you don't get that same taste when it's dirty. Although, it does take from the overall effects of winding down at the end of the day or just getting your day started with all the cleaning. I noticed I wasn't able to smoke it well because after so much cleaning, I'd miss locking the pipe in and had quite a bit of air leakage that I'd thought I had broken it already. A quick adjustment and you'll see the pipe smokes just as fine as it did. Speaking of the sturdiness of the structure, though: it is unbelievably comfortable(you'll forget you're holding it!), and although my glass pipe causes this huge inhale, with KøL, it's a tasty, ash-free experience where I feel more secure that any drop would not lead to a shattered mess. But also, that bowl design causes me to save so much ****! A+ on that.
03/22/2021
Anonymous

United States
The last pipe I'll ever buy, hopefully.
Love this pipe, delivers on everything promised by the unique design.
03/21/2021
Anonymous

United States
03/20/2021
Anonymous

United States
Wonderful pipe!!
I have greatly enjoyed using the Kol and it has quickly become my favorite piece!
03/18/2021
Anonymous

United States
Defective product
I received a defective product. It was horrible. Customer service is the best I've seen though and they are sending a a new one. So I can't really say much until I receive a product that works.
03/17/2021
Tyson A.

United States
Not for me
You have to pull too hard for my liking. Just not enough air coming through, probably due to filtering technology. I really like how easy it is to clean so +1, and I like the feel +1.
03/16/2021
Anonymous

United States
This s*** slaps real good
The pipe does exactly what it's advertised as. It cools down the smoke a lot so it's much easier to smoke from. The only change is since it has all these little channels, you have to pull harder. It took two or three try's to get it right, but once you do it's awesome!
03/16/2021
Kendal F.

United States
Great Pipe
Cool smoking **** pipe.
03/15/2021
Kenneth G.

United States
Not as good as I hoped.
I love the look, love how you can keep it clean after or before every smoke session. It does have a hard draw but I don't mind it, especially with how cool the smoke is. I don't know if they are all exactly the same, but mine does not sit snug, sometimes it pinch my finger when it moves. Also inside it seems all the smoke moves down the left side only, because that is the only area on the dimples that gets residue. My thought is it's a malfunction in mine, would of asked for a replacement but saw it was a no go after use. Over all I think it a cool concept but quality control isn't there, at least not in the one I received.
Hi Kenneth, Thanks for your review :-) If you send us an email to help@hoj.life, we'll be able assess whether you've received a defective product and get a working one out to you!