KLIP mini [kli-p]

Protect the herb, preserve the high
Voted best grinder 2020 by Herb and Strain Insider
OUT OF STOCK IN THE EU
---
KLIP is a grinder only by name, having been fundamentally re-imagined for the first time in over 110 years. This an evolution, this is a revolution.
£90.00
Customer Reviews
Write a Review
Ask a Question
Filter Reviews:
grinder
KLIP
herb
design
magnets
price
quality
blades
screens
Packaging
04/14/2021
Taylor

Canada
Good stuff
Easily the best grinder I've ever used. The slicing function is amazing, and I've gotten so much kief in such little time. The only problem is when you stuff it a little too full it sometimes comes apart so be careful and hold both grinding pieces to avoid spillage
04/14/2021
Anonymous

United States
Best Grinder!!
HØJ knocked it out of the park on this one!! This is by far the best grinder I've ever used! It slices with ease, instead of grinding and crushing, making everything fluffy. The magnets are strong and it holds together really well. The KLIP is very well made and feels like it will last a lifetime!
04/12/2021
Anonymous

United States
Excellent
Amazing, Simple, and Versatile!
04/07/2021
Anonymous

Germany
Quality has its price
At first u need to understand how to use the product, after this time u will love it.
04/06/2021
rory c.

United Kingdom
Klip mini
Very pleased with product, just wished I spent the extra money to get the larger size
04/05/2021
Anonymous

United States
Best Grinder Ever
I've had this grinder for a month and its safe to say its the last one I'll ever buy. You really get what you pay for, HØJ has thought of everything with this design. Easy to use/clean. No more mashing up your ****, this slices very well and only needs a few twists. I'd rather pay the extra $$ upfront for the KLIP than spend $40 every so often for a new grinder.
04/04/2021
Andrea S.

United States
03/30/2021
Anonymous

United States
Wow
He loves it. Super smooth and just a great product. It is worth the money
03/29/2021
Anonymous

United States
This is THE Grinder!
As soon as the product was in my hand I could tell the high quality/ durability of the metal and craftsmanship of the entire unit is like no other grinder I've used before. My brother who is blind and has nerve problems in his hands from a traumatic brain injury says that the lack of resistance during grinding is truly amazing and transforms the wrenching motion previously experienced into a smooth effortless action. It is a little pricey but considering all the extras and the thought put into the product I could not be happier to give this company my money. Thanks again and happy smoking everyone!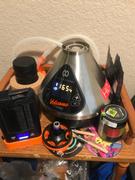 03/28/2021
Pablo D.

Chile
Excelente Moledor
Muy buena calidad. Todos sus imanes funcionan perfectamente, los repuestos y cambios de tamaño para las diferentes rejillas son muy buena idea para personalizar el moledor a tu gusto. El dispensador es muy útil y el aroma que conserva la hierba cuando se corta es inigualable, una experiencia única. Lo recomiendo 100%.
03/27/2021
Maria S.

United States
AMAZING
Wonderful, I will. Ever use any other grinder☺️✌
03/25/2021
Anonymous

United States
Amazing
The most beautiful and performing grinder. The options are great and it just is a masterful piece.
03/25/2021
Pappa

United States
Solid Grinder
Cant deny this grinder is a little expensive, but absolutely totally worth it... If you have some extra money laying around, spend it on this grinder! The quality of the herb after being grinded down makes for a perfect consistency to burn perfectly. I purchased the bowl and made a second order for the grinder. HIGHLY recommend!!
03/24/2021
Noah G.

United States
best "grinder" ever.
This is the Lambo of grinders even though it does not grind