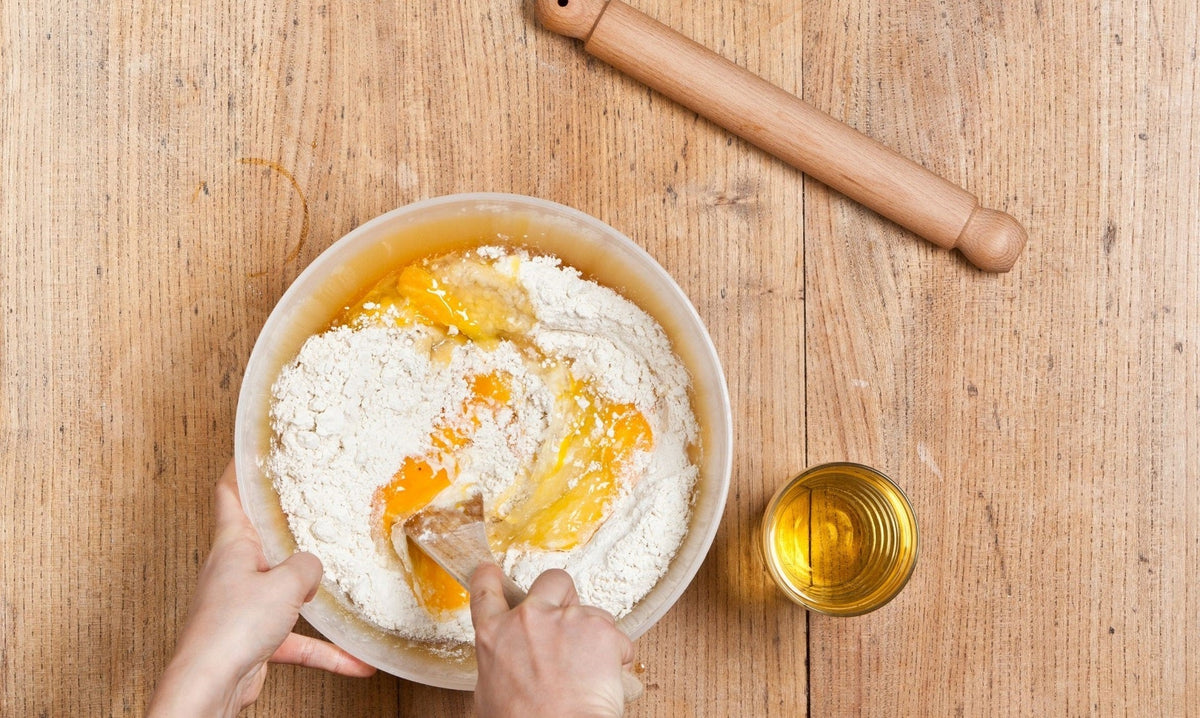 Cheez-Its are timeless snacks. Why wouldn't they? After all, cheese goes well it almost everything. Cannabis included.
What do you get when you mix this classic snack with cannabis? Weez-Its! These Cheez-Its edibles are perfect for a movie night with friends or a weekend afternoon when you have absolutely nothing on your plate for the next several hours. They will give you a pleasant and cozy body-high with a strong case of giggles.
Stay with us to learn our edible Cheez Its recipe from scratch or with an original box of Cheez-It. You'll be amazed at how easy it is to bring this fun to the table.
Weed Cheez-Its From Scratch
Servings: 150 crackers (about 0.5 mg THC per cracker)
Prep time: 25 minutes
Cook Time: 5 minutes
Total time: 1 hour and 50 minutes 

Equipment Needed
Parchment paper
Plastic wrap
Heatproof bowl
Saucepan
Silpat
Sheet tray
Rolling Pin
Pie cutter or bench scraper
Paring knife
Ingredients
For the cannabutter:
⅛ ounce or 3 ½ grams weed
8 tablespoons or 113 grams unsalted butter 
For the Cheez-Its:
½ teaspoon kosher salt
1 tablespoon apple cider vinegar or ice-cold water
2 ounces or 60 grams cream cheese
2 ounces or 60 grams sharp cheddar, finely grated 
2 ounces or 60 grams sharp white cheddar, finely grated
1 tablespoon infused butter
1 tablespoon unsalted butter
½ cup or 60 grams all-purpose flour
Decarb Your Flower
Heat the oven to 245°F. 
Grind your weed using a KLIP. This way, you will have fluffy ground cannabis for your cannabutter.
Place the weed in parchment paper and bake for about 30 to 40 minutes to decarboxylate it. 
Place a heatproof bowl over a saucepan filled with 1-inch of water over medium heat.
Add six tablespoons or 85 grams of butter and one tablespoon water to the bowl and the already decarboxylated weed. 
After 30 minutes, add one tablespoon of water and let it infuse for 30 minutes more. Remove from heat. 
Place a fine-mesh strainer over a bowl and strain. Squeeze out any liquid from the weed and then discard it.
Add the remaining two tablespoons of butter, stirring until it's melted and blended. It should look creamy and smooth.
Set the infused butter aside until ready to use.
Make the Cannabis Cheez-Its
Place the cream cheese, both kinds of cheese, and cannabutter in the bowl of a food processor and blend until it looks like a paste.
Add the flour and blend all ingredients until it gets crumbly.
Dissolve the salt in the vinegar or water and add it to the mixture. Keep kneading until it forms a dough.
Form into a 4-inch x 3-inch log and cover in plastic wrap. 
Refrigerate for at least 1 hour.
In case you want a stronger punch or avoid using cannabutter, you can learn how to make cannabis cheese to make your snacks taste even better.

Baking Time
Preheat the oven to 350°F (177°C). 
Take out the dough from the fridge and leave it at room temperature for a couple of minutes. 
Place a Silpat on the counter. Alternatively, you can use parchment paper, but it will be far more challenging to get the dough thin. 
With the help of a rolling pin, begin to roll the dough on the Silpat vertically and horizontally, in perpendicular strokes, working the middle out to the edges to create a 10-inch-by-15-inch rectangle shape.
Take a pie cutter or bench scraper, score the dough into 1-inch squares. Then dot the center of each with the tip of a paring knife. 
Transfer the Silpat to a sheet tray and bake for 12 to 15 minutes. When they all look perfectly golden, take them out of the oven. Typically, edge pieces are thinner than the middle bits. For this reason, they should be ready first. Take out those and flip the rest of the Cheez-Its. Return to the oven for another 5 to 10 minutes. 
Remove from the tray and allow them to cool down. Your cannabis Cheez-Its will get crunchier as they cool. 
How to Make Weez-Its With a Box of Cheez-Its?
No time for making these cheesy and crunchy snacks from scratch? We got a quick solution for that! 
Servings: 110 crackers 
Prep time: 10 minutes
Cook Time: 25 minutes
Total time: 50 minutes 
Snack Cuisine: American
Calories: 150 kcal
Equipment Needed
Ingredients
4 cups of Cheez-Its
4 oz cannabutter (for this recipe, we used 2 oz of bud for 4 oz of oil by volume)
Step by Step
Preheat oven to 250F.
Place your Cheez-Its in a large bowl and pour cannabis oil over crackers. 
Gently toss to coat them all and spread the crackers evenly on a baking pan covered in tinfoil. 
Place in the oven for 25 minutes until all the Weez-Its absorb the oil and look lightly toasted.
Take them out of the oven and let them cool for 15 minutes.
And that's it! Now you can place these mouth-watering snacks in a handy jar for snacking.