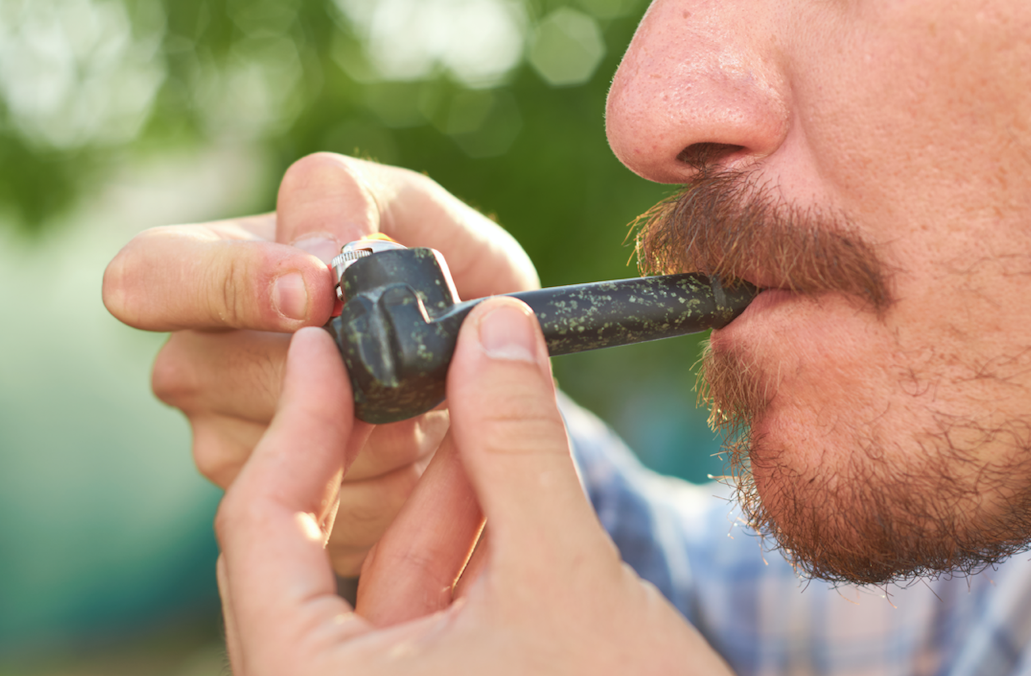 Coolest Weed Bowls: We Reviewed The Best Weed Bowls
How do you smoke your weed and why?
There are many smoking methods available, but every one of them has its particularities that end up having effects on the way you enjoy your cannabis. Some can change the flavor or the feeling of your session. 
Smoking through a bowl is an easy and convenient way of having a considerable amount of weed that you can even share and create a social experience.
Many people think that pipes and bowls are the same thing, and they are both right and wrong, as bowls are pipes that have a carb hole and that can hold more weed than a regular pipe. You can also find them by the name of spoon pipe.
Within this category, there are many kinds to choose from: some of them use water (bubblers), others have interesting shapes (glass Sherlock pipes), or are efficient and simple (ceramic pipes or one-hitters), among others. 
Pipe with dry cannabis over wood (Envato)​​
Coolest Weed Bowls You'll Love: Our Recommendations
For this article, we researched the best and coolest weed bowls so you don't have to. Here are some incredible options we stumbled on.
KØL 2.0
We've decided to add KØL 2.0 pipe by HØJ to this list as the first option as many people consider it the best "spoon pipe" out there. KØL's carb hole or "bowl space" can hold more weed than a regular pipe and that's a great advantage against other brands.
KØL 2.0 was crafted with precision and innovation, it gives benefits to elevate the consumer's smoking experience:
Cooling Technology: The KØL 2.0 features advanced cooling technology that ensures a smoother, cooler hit every time. Say goodbye to harsh smoke and coughing.




Durability: Built to last, both KØL 2.0 and KØL mini pipes are constructed with high-quality materials which make them unbreakable. HØJ ensures its product's durability giving lifetime warranty to their clients.



Easy to Clean: Cleaning KØL pipe is the easiest of all. Being assembled with magnets allows the user to just snap it open and wipe it to be cleaned. Also just separate it into parts and soak it in isopropyl alcohol.
GRAV Labs
This brand specializes in making different kinds of pieces for smoking. GRAV's creations are beautiful and eye-catching and they can handle more or less weed, depending on what your needs are.
We especially like the Classic Sherlock Bubble Trap bowl, as we think it is very stylish and has a large bowl for a good amount of herbs. 
Empire Glassworks
If you are a free,  fun spirit and love cute and creative smoke wear, Empire Glassworks is all you need. 
Their creative designs have animals, plants, and objects -like a tar of beer or even a toilet-, and other figures that will mix and match with your bubbly stoner personality. 
Chameleon Glass
A more traditional version of Sherlock pipes, bubblers, and spoon pipes, to name a few. 
Chameleon Glass's main feature is the quality and variety of their products, which are made out of glass in most cases and have the extravagant colorful finish that characterizes many of these devices in the market.
Marley Natural
They only have one design for bowls, and still, this is one of our favorites because of its design and color. 
More discreet and in gold and black, Marley Natural's spoons are beautifully made and have an appropriate size for a community session with your well-dressed and elegant friends.
Hand holding KØL 2.0 pipe (HØJ Media)
Black glass pipe with cannabis bud (Envato)​​
Weed Pipes VS. Weed Bowls
A bowl is a kind of pipe, but not every pipe is a bowl, even though sometimes they are used as synonyms. 
Weed bowls are usually picked up by beginner stoners, so if you want to go next level, we highly recommend you choose a lifetime pipe like KØL pipe to start with. It was designed under the best quality standards and it comes with different-size filters and a cooling system that would prevent you from having that beginner's coughing issue in every smoking session.
So that's it folks, just enjoy your smoking session with any bowl or pipe of your preference!
Disclaimer: HØJ is not a medical advice blog, so please consult with a doctor or a specialist if you have any questions regarding smoking or anything related to cannabis consumption itself.