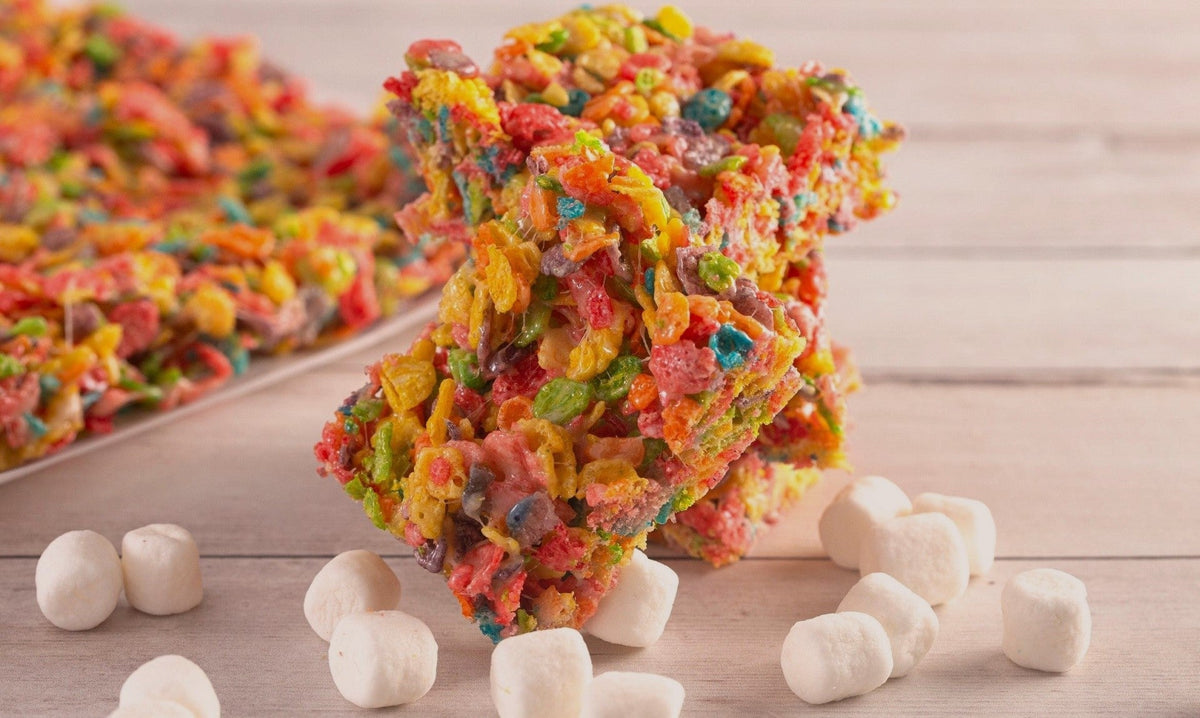 Fruity Pebbles Edibles Recipe
They are colorful, sweet, and make you high. Sounds good for a treat? If, as a child, you enjoyed Fruity Pebbles, give them a twist by infusing them with cannabis.
Never stop being a kid and preserve the playful sensation of enjoying a bowl filled with sugary cereal. The only difference now is that you are with your friends on a relaxing high in the couch playing video games, listening to chill music, or watching a moody film.
Making Fruity Pebbles edibles is perfect for covering the bitter taste of cannabis. The texture of the cereal is just right, and you can still sense some of the earthiness of your favorite cannabis strain. Keep reading to learn how to make Fruity Pebbles edibles.
How To Make Fruity Pebble Edibles
Preparation Time: 5 minutes
Cooking Time: 10 minutes
Ingredients
1 box Fruity Pebbles cereal
2 cups mini vanilla marshmallows
1/3 cup cannabis butter
Equipment
A large pot
A spatula or wooden spoon
A large baking sheet
Parchment paper
Using cannabis butter to make Fruity Pebbles Edibles Krispie treats is very easy, tastes great, and gives you a body high. Some dispensaries will sell cannabutter, but you can easily make yours at home.
Cannabis-Infused Butter
Preheat your oven to 250 F.
Break the buds up with your fingers or using a grinder. We highly recommend using our KLIP to slice fine herbs in a snap that easily mix with the ingredients while preserving its precious trichomes. The result will be a powerful cannabutter.
Spread the ground flower on a baking sheet and take it to the oven for 45 minutes.
Check on your ground cannabis flower from time to time and stir to allow every piece to cook evenly.
When the flower has turned brown, remove it from the oven and allow it to cool. If it crumbles easily between your fingers, it is ready to use.
Take your preferred unsalted butter and infuse it with the decarboxylated weed. Heat both ingredients for about 30-60 minutes.
Stir every 15 or 20 minutes, making sure the butter doesn't burn.
Step-by-Step
Step 1
Carefully place your cannabis-infused butter into a large pot and set it to medium heat. You'll want the cannabis-infused butter to melt completely. Keep an eye on it to ensure it doesn't burn. 
Step 2
When you're happy with how that melted butter is looking, toss in your mini vanilla marshmallows. Then, with a spatula or wooden spoon, gently stir up.
Mix them well as you want the potency of the butter to disperse throughout the marshmallows evenly. That way, each bite will deliver a similar level of potency, which will make the self-dosing of these homemade treats that much easier.
Step 3
After about two more minutes of stirring and cooking on low heat, remove the pot from the heat source, and place it atop a counter. Now add Fruity Pebbles into the mix, and again, keep stirring until everything is adequately mixed.
Step 4
Cover the baking sheet with parchment paper and spread the fruity pebble mixture evenly on the baking sheet. You can add melted chocolate or any other topping over the mix at this point.
Put in the fridge until chilled for 20 minutes. Remove from fridge and cut into even portions. Enjoy!
Fruity Pebbles Edibles Effects
Since edibles take more time to display their effects on the body, you will have to wait for about an hour and a half to feel the effects of your Fruity Pebbles edibles.
You will notice that all the tension from your shoulders is gone, your mind is calm, and your body is relaxed. This is a treat for the evening or before going to bed for sure. Depending on the strain's potency, you may be couch-locked after two hours of consumption. 
Moreover, edibles are perfect for a relaxing time. If you long for a nap, taking a bite of your Fruity Pebbles edibles are a great way to sleep tight.
If you liked this Fruitty Pebbles edibles recipe, you will love the Snickerdoodle Recipe. Soft-baked, weed snickerdoodle cookies are only 30 minutes away from you. For this, you just have to follow one of the quickest, tastiest, and easiest edible recipes you can check on our blog.