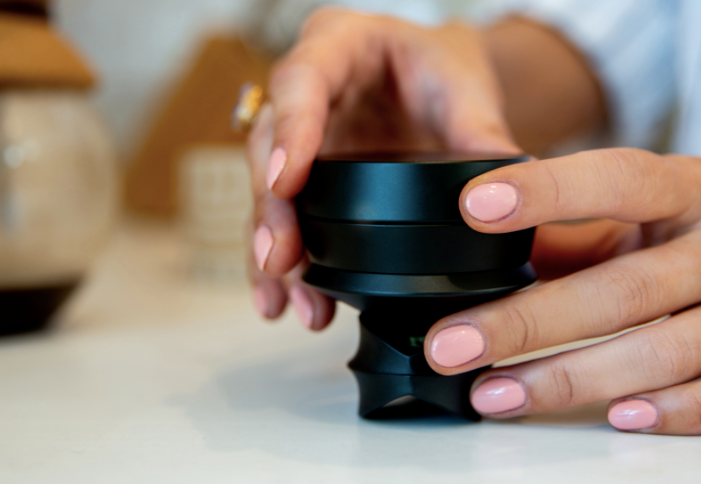 Best Funnels For Weed Grinders: Fill Cones and Pack Bowls Easily
We all know the benefits of grinding our weed: it saves time, maintains good quality etc. But, hey, is that all? What about the process of loading our pipe, cones or bongs? Is there any way to do it with less effort? Join us as we bring you the companies that actually took the time to make our lives a bit easier, how? by adding a simple but useful artifact: a transfer funnel.
KLIP grinder and The Funnel
By HØJ
One of HØJ's bestsellers is KLIP and The Funnel, those two are basically best friends. Unlike the other grinders, KLIP is made from recyclable aluminum and is perfect for people who prefer to invest into efficiency and practicality. It has a dual blade combo that, instead of macerating or pulverizing like the other grinders, it slices the flower, so rest assured, all properties will remain intact, add to this the fact that KLIP is designed to rotate easily thanks to its unique opposing magnets system. This results particularly useful for people with movement impairment in order to grind with a fraction of the effort compared to other products, also, KLIP is ready to use from the get go; there's no need to charge batteries or anything. KLIP can rotate even with one single finger! Now, adding The Funnel to KLIP is just the cherry on the top. It fits perfectly with the KØL pipes and helps to avoid flower contamination. Can you think of a better way to grind cannabis other than doing it directly into the pipe? Now, if there's still some remains on the funnel, you can simply store it using its magnetic lid. Consider also that KLIP is completely customizable; you can switch trays at any moment and save the herb for later. There's no doubt that KLIP is an essential tool for the best smoking experience.
And that's it for now. These are some of the most known options to load your devices with minimum effort, and now that you are well informed, be sure to return to hoj.life for the best cannabis-related products. We are shipping worldwide to most countries (check policy)
Mamba Grinders
Mamba grinders is a company that has been around for a few years now and is mostly recognized for its variety of electric grinders, all of them, with similar performance and design, being load capacity, gear system and size what differentiates them. Their model v250, one in the middle range of price and capacity, has an interesting number of features. For starters, it has compatibility with their pre-rolled cones in various sizes, so the process of stuffing is fast and easy. To use the Mamba, all you have to do is place the herb in the compartment, lock it and  press a button, that's it. You are ready to load your favorite device.  Also, the process of assembling the pieces is fairly simple since the funnel and the grinder union is magnetic. Finally, it is worth noticing its powerful batteries which can be fully charged within 2-3 hours and last for several days depending, obviously, on its use.
Cons: all models are made out of plastic so the appearance is not all that great. Finally, the grinding system is based on gears that crushes the content, and that can be rough on the flower.
Tectonic9: Auto Dispensing Grinder
By Cloudious9
Another option that has recently drawn attention is the Tectonic9 by manufacturer Cloudious9. It's a manual grinder with an automatic dispenser and a couple of very convenient assets. The first one is the tiny window where the process can be checked out in order to get exactly the desired level. The other interesting feature in this piece is the funnel -even though it's not precisely that- because it is more like a  dispensary hole that can be magnetically closed on convenience and used for storage purposes. In addition to that, now that we are talking about design-wise, it can be ignored the fact that the device actually looks classy. It is made with cnc aluminum that feels good to handle. To use it, just twist the transparent herb chamber counterclockwise to remove it and fill the chamber with your herbs. Lock the device. Twist back and forth to shred. Open the dispenser if desired and push the button to pack your device.
Now, the cons. It can be ignored the fact that this is a traditional grinder in the sense that the gears crunches the cannabis and, for that reason, some remains can be stuck. Also, let's not forget the fact that the Tectonic9 is totally manual, it might be difficult for users with any sorts of handling issues. The same goes with the  cleaning process, which might be difficult to do from the inside. A final warning, this grinder can be a bit clogged if the herb is not grinded to its finest on a regular basis.
OTTO Go Grinder
By Banana Bros
Next on the list comes the OTTO by the L.A. based company Banana Bros. This is an automatic cone loader so it can be extremely convenient for clientele with any form of hand disability, however, its strong points are not limited to this, OTTO has a nice black design on aluminum and it can be adjusted to fill their pre-rolled cones, It is also worth mentioning that this is not only a  marijuana packing machine, you can roll up joints and blunts in all shapes and sizes to perfection in less time with the help of its measuring cup, or you can simply storage with the help of a magnetic tray to smoke later. One last feature that needs to be highlighted is the battery which has enough potency to fill up to twenty cones. The operation is similar to other automatic cone fillers; all you have to do is load -the machine will detect the material and its consistency- and push a button. Voilá.
Now, on the downside, OTTO is not the most discreet cone stuffing system, quite the opposite, it's big and noisy which makes it difficult to use away from home, also, while the pre-rolls are nice, the packer system is not all that precise, it may be necessary to poke the cannabis for a more compact cone.
 Tectonic9 Auto Dispensing Grinder (Cloudious9)
OTTO GO Grinder (Banana Bros)​​
LONZEN: Rechargeable Electric Dry Herb Grinder
As the name implies, the Lonzen grinder is another electric option, so it has similar advantages to the OTTO and Mamba: easier to use compared to traditional manual devices, powerful battery that may last for days and, just like the Tectonic9, it has a window where the grinding process can be checked, nonetheless, there are some other features worth mentioning. The first thing that draws the attention is its design, similar to a 6 inches fat pen which can be conveniently placed in a bag or pocket. Another important point is its three powerful stainless steel blades that work at a 24000 RPM to assure a fine result, which, by the way, are programmed to stop if the security lid is not in place, in order to avoid any form of human contact. Once the job's done, the cannabis can be stored or dispensed with the help of a magnetic cap. As a final note, the remains can be easily cleaned with the aid of a brush included in the package.
Now, unfortunately, the Lonzen has some flaws. On the one hand, there are reports that the motor life expectancy is not all that long, on the other, there's also people saying something similar about the battery. 
HØJ.LIFE | The Funnel:  https://www.hoj.life/products/funnel?31336961605684
Mamba Grinders: https://mambagrinders.com/collections/shop
Cloudious9 | Tectonic9 Auto Dispensing Grinder: https://www.cloudious9.com/products/tectonic9-auto-dispensing-grinder
Banana Bros | OG OTTO: https://bananabros.com/collections/otto/products/otto