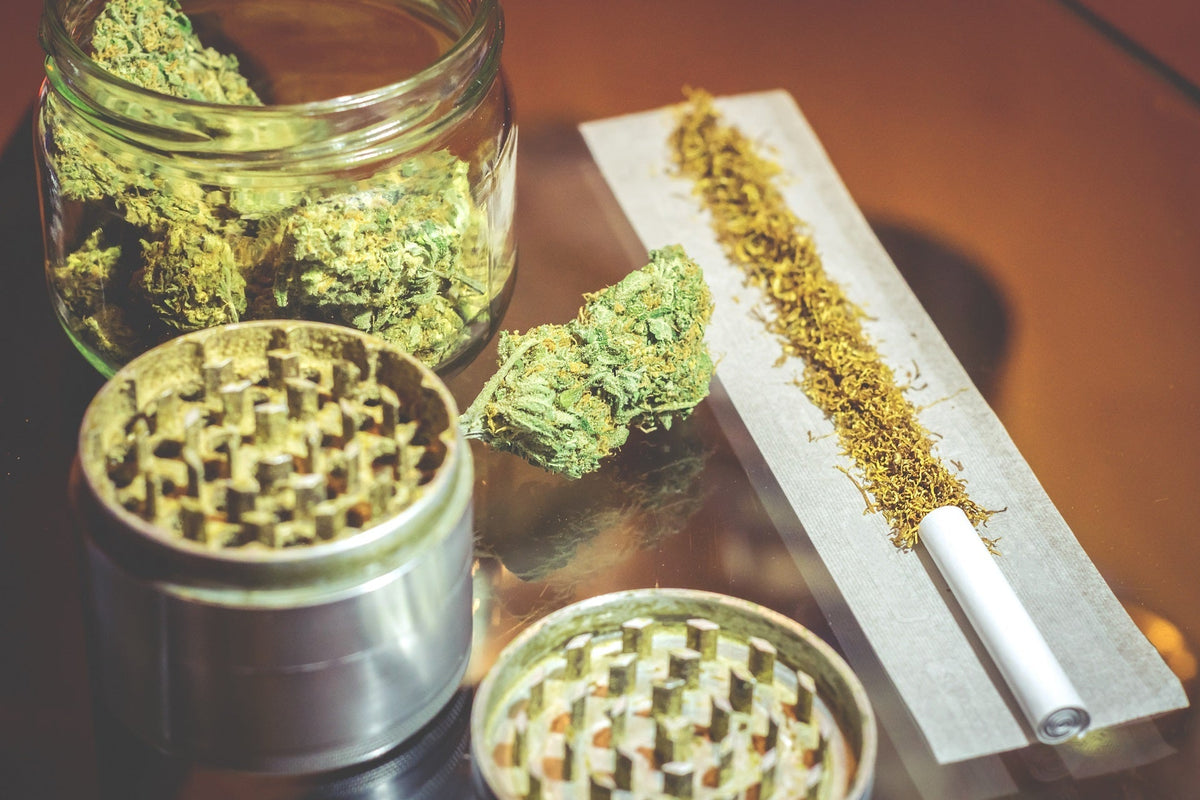 3 Piece vs. 4 Piece Grinder
One of the secrets to make a perfect joint is to leave your herbs as fine as possible, and to make that happen, you need a herb grinder. This cylindrical device has at least two halves, with separate sharp teeth or pegs aligned in such a way that when both halves are turned, the material inside is adequately shredded. 
Having a good grinder gives you the possibility of saving time while taking advantage of every gram of your weed and its cannabinoids. Its sharp blades will cut through all your dry flower seamlessly and sift out the bad chunks, transforming your buds into a pile of fine, fluffy weed that is easy to roll, vape, or add to edibles. No ruined scissors or sticky fingers and most importantly, no lost product.
If you've ever walked into a smoke shop, you are probably familiar with the wide variety of grinders available. For only a couple dollars, you can find cheap grinders, which usually have 2 pieces, such as acrylic and wooden ones. However, if you take a deep look at how they work, you will realize that some of them aren't very reliable or durable. After a short period of time, its parts can be notoriously hard to twist, teeth lose their sharp edge, and sticky kief builds up in the crevices of it.
For this reason, we recommend investing just a little bit of your hard earned money in getting a nice, top of the line grinder, like those with 3 and 4 pieces. Before you make a decision without any valid criteria, this article shows you what you need to know and the differences between them to help you figure out which one adapts better for your consumption.
Always Go for Metal Grinders
It isn't always about how many pieces or parts they are made from. First thing you need to look at when choosing the right grinder is the material from which it is made. Aluminium, steel, brass, or even zinc metal grinders are easy to twist.  Moreover, they have strong, metal teeth that will tear through even the thickest buds without any effort; just a couple quick twists and the herb is ready to be dumped out, rolled up, and smoked. These are considered, among the manual models, the most effective and extremely durable grinders. The most common models feature 2, 3, or 4 pieces.
3-Piece Grinders
These types of grinders feature an extra middle compartment that breaks down the buds really well, designed with tiny holes that work as a filter. It has two pieces that serve as grinding portions, coming together with a third piece, to form a practical crusher. As you twist these three components, herbs are ground into smaller fine bits, falling through these holes into the lower portion of the chamber. The bottom piece works as a catcher for the ground up herbs, while it serves as a storage, making it easier for you to carry weed around.

As a matter of fact, these grinders have a few cons. Notice that they don't have another compartment to catch and collect any kief. Additionally, although you can use it as storage, it doesn't provide a complete air-tight seal.
4-Piece Grinders
From all manual grinders, this is probably the best. These work just like 3-pieces grinders, but they feature an extra compartment covered with a fine stainless steel sieve to collect tasty, little kief, available right at your fingertips. 
4 piece grinders start with a tough top magnetic layer, followed by the grinding chamber. As you twist it, razor sharp teeth will grind the herb into fine little pieces that will fall through the 2nd layer onto the 3rd layer. Once they get there, they are fine and crisp enough to start your smoking session. Finer products keep falling until the base chamber, where the pollen screen allows only the smallest particles to pass through, catching that precious extra-potent fairy dust. 
4-piece grinders are better designed for those who like fine herbs, but also for those who use kief to spark some joy every now and then. Another brilliant thing about 4 piece grinders is that they can store a surprising amount of weed plus a smell-proof seal. Some of them come with a detachable storage compartment, perfect for those who would like to take their herbs on the go without having to take the grinder with it.  
3 piece vs. 4 piece grinder
Although everyone has their own preferences, investing in 4-piece grinders can make a huge difference in your smoking experience. If you are still stuck between picking a 3-piece or a 4-piece grinder, think about what your regular needs are when you smoke. In addition, keep in mind your storage needs as well. If you want something that provides an airtight seal, and if you use kief to press it, make oil or edibles, your best bet is a 4 piece grinder. 
If you already made up your mind and decided to purchase a multiple chamber grinder, take a look at our KLIP voted best herb grinder 2020 by Herb and Strain Insider. 
The KLIP herb grinder is convenient for all, from a novice smoker with no dexterity, to a connoisseur one. This powerful grinder is made with anodized, recyclable aluminium, polished brass and stainless steel; materials that provide durability and toughness with a lifetime warranty. Moreover, it has a perfect size with an ergonomic and modular amazing design.
Furthermore, the KLIP is easy to clean and it suits your smoking needs. It comes with a magnetic accessory system that gives you options, including three different control discs and three collection screens that you can easily swap, plus a funnel. Thanks to this, not only can you grind your herbs finely, perfect for rolling a joint, but also you can cut it coarsely, ready to smoke in a pipe. On top of that, the kief compartment has no angles, making it simpler to get all the good stuff out, without waste. This is an all-in-one grinder with a lifetime warranty that is definitely worth spending your hard earned money on.