KØL

[kow-l]
A cleaner, cooler high
Voted best pipe 2020 by Herb
---
video
---
variante 1
---
variante 2
---
shipping
Starting from $80.00
Customer Reviews
Write a Review
Ask a Question
Filter Reviews:
pipe
smoke
hand
Packaging
Cleaning
nothing
design
grinder
bowl
fact
10/30/2020
Cyndi P.
Canada
I recommend this product
Best pipe I have ever used
I have bad lungs and cough readily I smoked the hoj pipe and no cough at all awesome pipe would and will recommend this pipe to everyone one that I know
10/24/2020
Anonymous
United States
I recommend this product
Pipe
Bought it for my fiancé. She loves it. Said she missed her pipe because it was a pain to clean. Great to smoke and easy to clean. Sometimes wishes it pulled a little more air but she's learning and great overall.
10/17/2020
Anonymous
United States
I recommend this product
Perfect Piece
I love this piece. It feels great in my hand, is the perfect weight and the magnetic connection is slick and quality design. Very smooth hitting and something I would recommend.
10/14/2020
Anonymous
United Kingdom
I recommend this product
Super smooth
Not only good for loose herb. Works well with solids.. hash
10/13/2020
Anonymous
United States
I recommend this product
Pipe
Really like it. Feel like I get more out of what I'm smoking with it. Easy to clean but find myself needing to clean it more frequently then other options.
10/11/2020
Dale D.
United States
I recommend this product
Found My Pipe!!
I had been looking for the right pipe for quite some time. I'm what I would like to think of as a "mature" smoker, but most pipes are marketed towards glass pipe users, young "heads", bong users, or tend to look like mushrooms or old tobacco pipes. None are quite my style. Then, a recent google search resulted in the HØJ KØL. I liked the look, but the price made me pause, for a moment, but like I said, I was looking for the RIGHT pipe for me, and the site offered me a coupon, so, ***? If i didn't like it, I'd send it back. No harm. No foul. I have LOVED this pipe since I opened the box. Its hard to describe, but it fits my hand and style perfectly. Nice, heavy feel, smooth edges, and it just feels nice. The only downside for me is the bowl size and the fact that you do have to stir the product after a few tokes to assure the green areas get the flame, but i can live with that. My only regret is that i didn't also pick up the HØJ KLIP while i could use the coupon, but i see the price has dropped on that (as well as the KØL!), so Ill likely order one if those also. One last thought. Shipping took a LONG time, likely due to the ongoing pandemic, so if you're impatient like me, you may want to use any coupon savings to put toward faster shipping. I would if i had to do it over! Hope you all enjoy it as much as I do.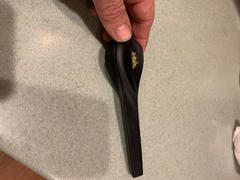 10/09/2020
Anonymous
Reunion
I recommend this product
The next futur smoke
the design is futuristic and well thought out ... It is a discovery, a surprising use and easy cleaning ...
10/05/2020
Anonymous
United Kingdom
I recommend this product
Smooth
Perfect - so smooth - easy to clean love love love
09/06/2020
Anonymous
Germany
I recommend this product
TOP PRDUCT
THE BEST OF ITS KIND
09/05/2020
Aaron .
United Kingdom
I recommend this product
Great Pipe!
Not usually a pipe smoker but thought I'd give this a try. One of the reasons I'm not into pipes is because they can be harsh to smoke and after the first or second use they become really smelly and impossible to thorogughly clean. This solves all of my bug bears around pipes! I feel the smokes much cooler and smoother going down the throat which is great. RE smell... I take it apart after every use, rub the inside with olive oil to clean out any sticky, smelly, resin, then pop it in the dishwasher with my plates etc... Vliola! Brand new Pipe!
08/31/2020
Anonymous
United States
I recommend this product
A great start!
This is a really nice pipe. For a first generation product it delivers on it's promise and offers a great smoke and is easy to clean. However, the design could use some minor improvements. While it is much easier to clean than any other pipe I've used before in the past 20 years, and offers a much smoother smoke as promised, I have found that I have to clean it after every other use - quite a lot! If you don't it will get clogged at the mouth piece and you won't be able to draw from it. Additionally, the design of the screen and bowl does not effectively allow consumption of flower around the edge of the bowl. After the center has been reduced to ash, the edges are still fresh-ish. This results in some unconsumed product and sticky gunk build up around the edges - which can be a challenge to clean. The packaging is second to none. The Mako Shark design is amazing. Despite the two issues outlined above, it's still an exceptional product. It is clear that this is an incredible next step for consumers of flower such as myself. I love it and enjoy it. The smoke is exceptionally smooth for a pipe. I can see how this product is going to be improved, and ultimately dominate the market. Once these design issues are updated, it's going to be the best thing anyone can find. Keep up the amazing work HOJ!!
08/30/2020
Anonymous
United States
I recommend this product
Great pipe
Excellent pipe. Delivers a great smoke as expected. Love the design and the performance. Look forward to more innovation from HOJ.
08/28/2020
Anonymous
United States
I recommend this product
Pretty decent metal pipe
I'm typically not a fan of metal pipes for various reasons ranging from flavor to heat dissipation. I decided to give this one a try due to its innovate design and ease of cleaning. I was also curious to see how well the internal heat fins worked to cool down the smoke as advertised. I have to say that this is likely the best metal pipe I've ever used, and my typical complaints about metal pipes haven't really been an issue with this one so far. Heat Dissipation: I haven't used this in a large session with lots of people because, well covid, so I can't speak to how well it'll keep from getting too hot from heavy use. For personal use though I haven't found that the pipe gets overly warm or uncomfortable to hold. It has gotten a bit warm a few times but nothing that prevented me from continuing to use it. If I'm being honest I can't say that I have found the cooling fins actually cool the smoke down noticeably. Bowl: The bowl size is pretty decent, bigger than I expected, if a bit odd due to the shape of the surrounding metal. I have found that packing it can be slightly more tricky than say your generic glass pipe due to the dips in the middle of the metal around the bowl. These depressions can end up causing a slight overflow in front and behind the bowl and can potentially lead to some leaf falling out of the pipe during the packing process. Pretty easy to manage though if you're aware of it, and I think the aesthetics of the pipe are worth it. Draw: The biggest thing that makes this a 4 star item for me is the draw of the pipe itself. Its definitely a tougher draw than my glass pieces. Its not terrible I just prefer something that requires less pressure. I think this is likely due to their cooling paths that the smoke routes through. Magnets (how do they work?): I haven't had to do a major cleaning with it yet, but I expect the magnetic aspect will make this super easy which I'm pleased about. I did wash it on arrival and it was much easier than any other pipe I've cleaned in the past. The magnetic halves do occasionally misalign slightly making the draw tougher, but its easy to fix once identified. Build Quality: The quality of this item is excellent. No manufacturing defects or problems at all. I love the packaging it came in and I'm continuing to use the box it came in as a normal carrying case. Its a bit bulky but its really well made and looks nice imo. The fact that its environmentally friendly just makes it that much better. Final Thoughts: This pipe has replaced my glass piece I've been using for years and I dont expect to go back to the glass pipe anytime soon. I'd recommend this to anyone whos looking for a pipe thats a bit different with a focus on ease of cleaning. Based off my experience with this item I will likely try other products produced by HØJ like their grinder.
08/28/2020
Anonymous
United States
I recommend this product
Beautiful instrument
The pipe is simply elegant. In this time of fear and anger and hurt and being masked and distanced your product is an oasis of serenity in its own right. I only use it on Sunday evenings after I have let it rest in my freezer for a bit of time. Smoking with it is my weekly sabbath rest. Thanks so much.
08/27/2020
Anonymous
United States
I recommend this product
A pipe that does it all.
I was impressed right away with the quality of this pipe. Besides looking good and getting the job done, it's easy to clean.